BRIEF HISTORY OF ESTABLISHMENT
An organization need in Turkey by our businessmen who works abroad was met by establishment of Turkish Foreign Trade Foundation (TDV) in 1995. TDV, started for organizing of "World Turkish Businessmen Conventions" in 1996 gathering up our businessmen active in various countries with the main philosophy of creating an ambience for mutual support, synergy and concrete cooperation as well as its other activities. The second Convention was held in 1998. These Conventions are beyond from the platforms in which our businessmen are being gathered and expressed only their desires and wishes. Sector meetings within the scope of Conventions, Convention Fairs, and mutual interviews ensure concrete relations to be created. The "Convention Catalogue" as an important reference source and the "Convention Book" as minutes of all meetings bear the written and long-lasting characteristics of this event.

President of Turkish Republic, Prime Minister, Cabinet Members, state enterprises and institutions, occupational organizations both domestic and abroad, businessmen and media show great interest to the Conventions.

Turkish Foreign Trade Foundation could not fully embrace the formation of "World Turkish Businessmen" neither in point of name or field of activity as well as it led to the Conventions. Establishing attempt of "World Turkish Businessmen Foundation" (DÜTİV) was started by Ertuğrul Önen, Chairman of the Board, who saw the requirement of a new frame. Now, a frame belongs to Turkish businessmen, after attestation of Court of First Instance of Ankara as of 15 October 1998 and registered in Foundations Registry, is available in Ankara since then.

DÜTİV, has been successfully realized four Conventions since its foundation, thus, it gathered up thousands of businessmen from more than 60 countries under the frame of mutual support, cooperation and collaboration.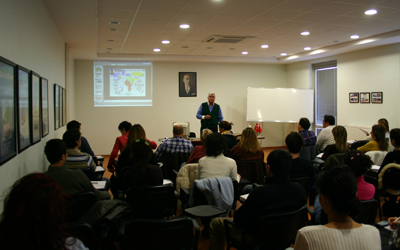 Dış Ticaret eğitiminin verildiği sınıflardan görünüm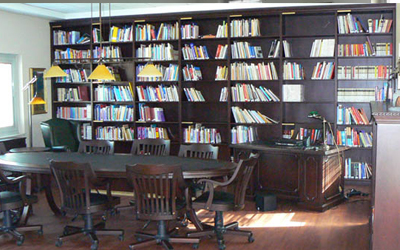 Dışticaret alanında inceleme ve araştırma yapan; proje, etüd ve tez hazırlayan, ögrenciler ve tüm ilgililerin yararlanacağı düzey ve çeşitlilik sunmaktadır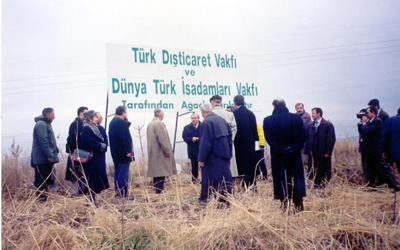 Türk Dışticaret Vakfına ait hatıra ormanı