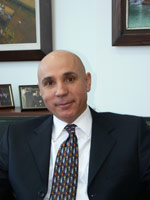 Mustafa DİK - Secretary General
He was born in Ankara in 1962. He completed his primary, secondary and high school educations in Ankara, and graduated from Gazi University Teachers' College in 1985. He worked in the accountancy and foreign trade departments in private sector between 1985 and 1989. Then he became Accounting Manager and Personal Manager in Central Anatolian Exporters Unions between 1989 and 1991. He obtained the license of Chartered Accountant Financial Advisor upon becoming effective of the relevant law numbered as 3568 in 1990. After working as Accounting Manager and Personal Manager in the Export Foundation between 1991 and 1992 he then assumed the Acting General Secretary in this foundation between 1993 and 1995. He was present in the foundation studies of Turkish Foreign Trade Foundation in 1995, and in the foundation studies of World Turkish Businessmen Foundation in 1998, and the appointed as General Secretary. He is presently going on executing of his duty as General Secretary in said two Foundations. He is married and has 2 children.

Verda Önen :Eğitim Kordinatörü
Verda ÖNEN ilkokul öğrenimini yurtdışında ve Ankara'da Alman Büyükelçiliği Okulunda
yapmış; ortaöğrenimini yurtdışında British Highschool'da, GCSE alarak tamamlamıştır. ODTÜ
Eğitim Fakültesi İngilizce Bölümü'ndeki yüksek öğreniminden sonra Türk Dışticaret Vakfında 2 yıl çalışmış; bunu takiben ODTÜ Geliştirme Vakfı İlköğretim Okulu'nda 10 yıl İngilizce öğretmenliği yapmıştır.Aynı zamanda Dışticaret ingilizcesi eğitim programının eğitmeni olarak görevine devam etmektedir.